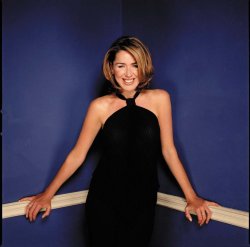 Claire Sweeney
"Claire"
Released July 15th 2002
Telstar Records
Album Info
Album highlights are many and include Queen's 'Too Much Love Will Kill You' featuring Brian May on guitar, a seductive version of the Bacharach/David classic 'The Look of Love', the luscious sway of 'I Hope You Dance' featuring the gospel choir United Colours of Sound, a fresh twist on the Noel Coward standard 'Someday I'll Find You' and a duet with Oliver Darley on 'Run To Me'.
Artist Info
Claire Sweeney may be best known as a Brookside regular, but became the nations sweetheart after appearing on Red Nose Days "Celebrity Big Brother", coming 2nd place to Jack Dee. Music however, has always been her first love. She's been singing since she was 8, appeared in the 'Sound of Music' and 'Oliver' at the Hackney Empire when she was 11, spent years at stage school, and toured the world singing on cruise ships. Earlier this year Claire starred in the acclaimed West End musical 'Chicago'.
Available Full Length Audio Streams
when you believe
http://www.peoplesound.com/3p/exec/content?url=pnm://download.peoplesound.com/6/1/5/7/9/2/7/6_lh0yn6q3yM_/157927.20020624151915.1.ra
I hope you dance (with united colours of sound)
http://www.peoplesound.com/3p/exec/content?url=pnm://download.peoplesound.com/6/1/5/7/9/2/8/6_Flqb2l9JPaI/157928.20020624152011.1.ra
Too much love will kill you
http://www.peoplesound.com/3p/exec/content?url=pnm://download.peoplesound.com/6/1/5/7/9/2/9/6_lHHOiI1ltrk/157929.20020624152039.1.ra
The look of love
http://www.peoplesound.com/3p/exec/content?url=pnm://download.peoplesound.com/6/1/5/7/9/3/0/6__lJqh2x_ZIs/157930.20020624152058.1.ra
What If
http://www.peoplesound.com/3p/exec/content?url=pnm://download.peoplesound.com/6/1/5/7/9/3/1/6_zxxBt8IZku2/157931.20020624152116.1.ra
WHEN YOU BELIEVE VIDEO LINKS
LO http://www.peoplesound.com/newmusicnow/exec/content?url=http://mcms-delivery.virtuebroadcasting.com/deliverMedia.asp?id=538EA842-4071-478A-BC7E-C7B9A8FFE15D
HI http://www.peoplesound.com/newmusicnow/exec/content?url=http%3A%2F%2Fmcms%2Ddelivery%2Evirtuebroadcasting%2Ecom%2FdeliverMedia%2Easp%3Fid%3D9456623E%2D4FCE%2D40C1%2DBBC9%2DC2F32CE76F7E
URLS
Official Site: http://www.clairesweeney.com
Official Label Site: http://www.telstar.co.uk
Competition Prizes
Signed Claire Goodies